STELLAR FITNESS SOLUTIONS PRESENT...
FESTIVE FITNESS CLASSES
 ·
Indoor/Outdoor Boxing, Tabata & Circuit classes for MEN & WOMEN of all fitness levels
Get a head-start on your New Years' Resolutions...see in 2018 as a fitter, healthier, and more confident YOU!!
DATES: MONDAY 18 DECEMBER , 2017—SATURDAY 30 JANUARY, 2018 **Boxing and Tabata classes have limited spaces, bookings essential!!
COST: CIRCUIT CLASSES: $10 EACH, OR 2 IN THE SAME WEEK FOR $15 (MON/THURS)
ALL OTHER CLASSES ARE $10 EACH
RAIN OR SHINE!!
** FIGHT-FIT CLASSES WILL BE RUN INDOORS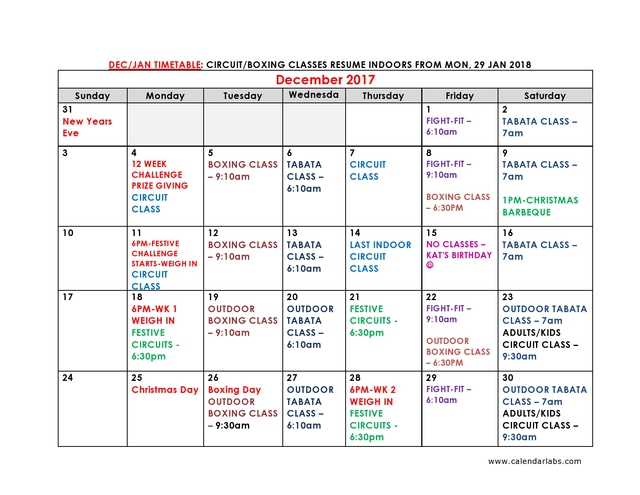 CLASS VENUES:
MON 6:30pm CIRCUIT CLASSES: Newlands Primary School hall - classes are run outside when fine
TUESDAY 9:10am BOXING CLASSES: Undercover Play area at Newlands Primary **Bookings essential, minimum of 6 for the class to be run
WEDNESDAY 6:10am TABATA CLASSES: Astroturf at Newlands Primary School **Bookings essential, minimum of 12 for class to be run
THURSDAY 6:30pm CIRCUIT CLASSES: Bellevue Primary School hall - classes are run outside when fine
6:10am & 9:10am FIGHT-FIT CLASSES: Centennial Hall (classes alternate) **bookings required, minimum of 6 for class to be run
FRIDAY 6:30pm FORTNIGHTLY BOXING CLASSES: Astro-turf/Undercover play area at Newlands Primary **bookings required, minimum of 10 for class to be run
SATURDAY 7am TABATA CLASSES: Astroturf at Newlands Primary ** bookings required, minimum of 15 for class to be run